Commercial Grade Electronic Charting and Navigation Software
for Professional Mariners
Request Information
Training Videos
Rose Point ECS™ improves operational efficiency, situational awareness, and decision making with straightforward, uncluttered displays and controls that provide instant access to the information professional mariners and fleet operators need to navigate safely.
Rose Point ECS is the industry-leading navigation software and the number one selling navigation software for inland vessels in the United States. With Rose Point ECS you get the most comprehensive user experience and sophisticated navigation tools available all in one package.
Key benefits:
Improved situational awareness and overall safety of vessel operation
Reduced cost of operation from more efficient transit times
Voyage data recording that reduces legal liabilities and enhances incident review
Exceptional and time-tested reliability
An uncluttered, modern and easy-to-use interface
Advanced admin tools make setup and configuration the fastest in the industry
Less overall required training resources that significantly reduce costs of adoption
Expert technical support when you need it
New Hardware Platform for Rose Point ECS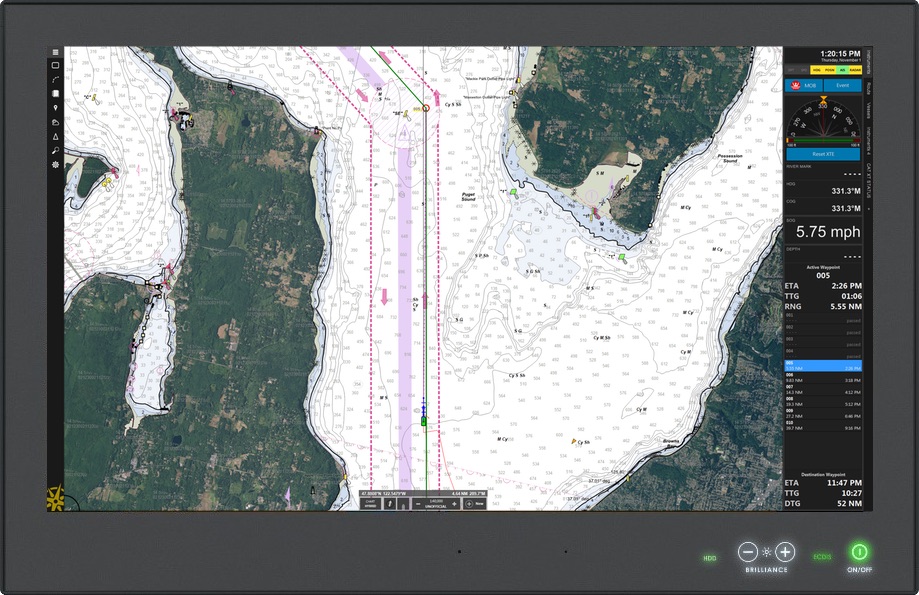 Have you seen our Ad in Marine News "Best Meets Best?" Get more information about the Hatteland dispalys and Rose Point ECS here
New Services for Rose Point ECS
Commercial operators can keep navigation publications compliant with US Coast Guard requirements and charts updated with Rose Point ECS services. What's more, you can monitor the status of your fleet remotely through Rose Point's exclusive web-based administrative portal – while getting technical phone assistance when you need it, every day of the week.
Planning and Navigation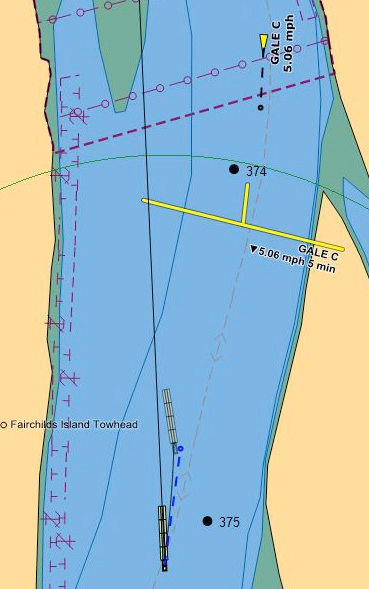 Rose Point ECS lets you plan an unlimited number of routes and waypoints, provides for boundary areas with speed limit alarms, and includes many other planning and drawing tools. Only Rose Point ECS lets you organize those routes and marks into voyage plan documents which are easily archived, printed, shared, and transferred between PCs.
Unlimited routes and waypoints
Boundary areas with optional speed limits
ETA calculator
Route obstacle checking
Voyage plan printing
When underway, Rose Point ECS provides you with the information you need with a quick glance at its clear, customizable displays and logical controls.
Fully customizable instrument panels and screen layouts
Passing point predictors indicate where you will meet other vessels in confined waterways, even around bends in a river
The rate of turn course predictor helps reduce over steering by indicating where the vessel will be in the future based on the current speed and rate of turn
A boat and its tow can be shown to scale for an accurate depiction of the vessel size and shape when zoomed in on the chart
The Voyage Recorder records all navigation data as well as radar, sounder, and video images for playback at a later time
Advanced AIS support includes closest point of approach calculations and alarms and AIS vessel track saving
What's New?
The latest Rose Point ECS includes many improvements to Rose Point ECS's legendary usability, performance, and reliability as well as some very exciting and unique new features.
New user interface that provides:
Access and control over more information without causing information overload
Simplified access to more functionality
More commonality between planning mode and cruise mode for the same functions
Less duplication of commands in multiple locations
More screen space for the chart
More visible status bar information
Incremental searching tool
Multiple instrument panes
Improved presentation of US coast pilot and USACE port and waterway facilities data
Enhanced Weather Support
Weather Buoys and other Observation Stations
Support for the upcoming AIS weather reports
Better planning tools
New route manipulation "handles"
Other features
Hybrid chart mode – overlay chart data on satellite and topo maps
"One Button Sync" – one button that checks for software, data, and chart updates using your internet connection
Screen dimming tool
Navtex Receiver support
NMEA 2000 Sensor support
Windows 7 Multi touch monitor support
New Help system with more content and faster searching
Support for IENC 2.3 format charts from USACE
Completely redesigned radar controls
Heading Sensor installation angle override
Passing Point Predictor hot key on/off
Additional Information
Rose Point ECS provides tightly integrated, easy to use, and completely searchable supplementary navigation information including:
Unlimited Routes and Waypoints
Boundary Areas with Optional Speed Limits
Document file based route and mark organization tools
Easy file transfer and printing facilities
US Port and Waterway Facilities Guide
US Coast Pilot®
International Sailing Directions
Tide and Current predictions
Weather forecasts and observations
Gulf of Mexico Lease Block Boundaries
Worldwide Gazetteer
NAVTEX message display (required NAVTEX receiver)
USACE Hydrographic Surveys
+Inland Add-On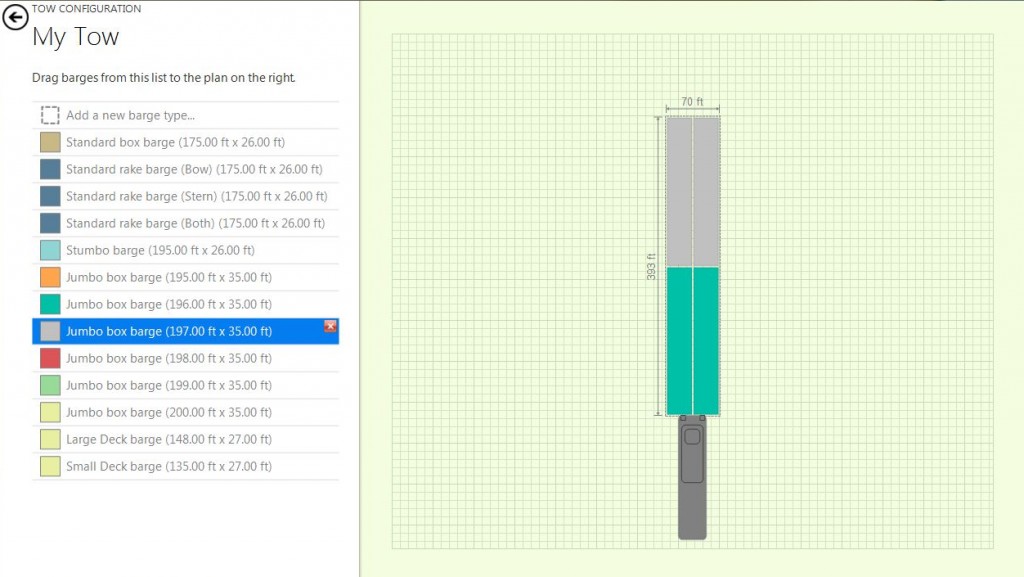 The features of +Inland are ideal for vessels operating on the inland waterways.
Mile markers instead of latitude/longitude
Graphical Tow Configuration editor
Boat and tow are shown to scale on charts
River stage observations and forecasts
Waterway ETA Calculator
US Waterway Mile Markers
Chart Compatibility
Rose Point ECS can use the official NOAA ENC® and NOAA RNC® charts directly; there is no need to purchase US charts in a proprietary format. Rose Point ECS even makes it easy to download and install these free charts. Official worldwide charts are available for purchase from within Rose Point ECS.
Learn about international charts
NOAA ENC® and NOAA RNC®
US Army Corps of Engineers IENC (2.0 and 2.1)
S-57 ENC (including S-63 encrypted)
Maptech BSB (raster nautical charts)
Maptech RML and PCX
Admiralty Vector Chart Service (AVCS)
PRIMAR ENC
Canadian Hydrographic Service Digital Charts
NV. Charts
BSB Versions 1-5
SoftChart and PhotoChart
Chart Overlays
It takes more than just charts to plan a safe and efficient voyage. Rose Point ECS provides tightly integrated, easy to use, and completely searchable supplementary navigation information including:
US Port and Waterway Facilities
US Coast Pilot®
International Sailing Directions
Tide and Current Predictions
Weather Forecasts – Text and Graphical
River Mile Markers
Gulf of Mexico Lease Block Boundaries
Worldwide Gazetteer
USACE Waterway Surveys
USGS Satellite Photos and Topo Maps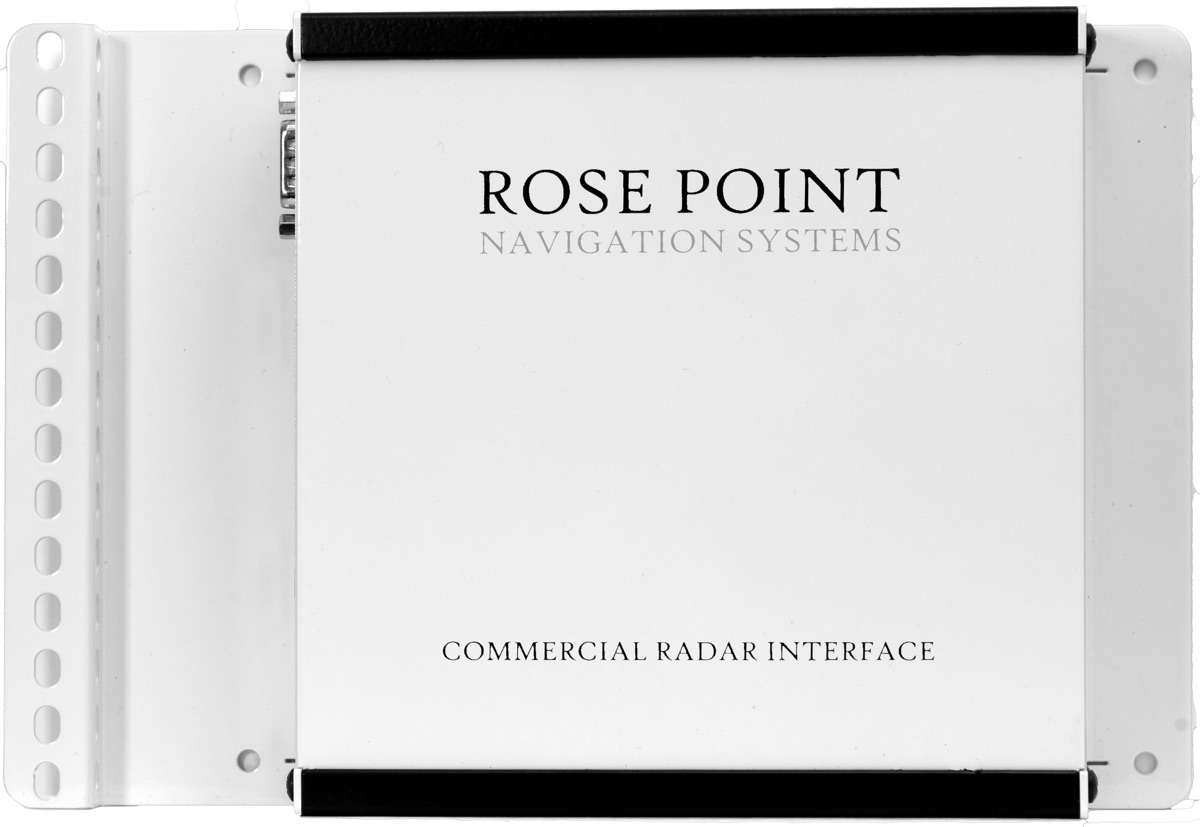 Optional Radar Overlay
Overlay radar images onto charts in one screen in Rose Point ECS,
giving you all the information you need to navigate with confidence.
Specifications
Display raster charts
Display vector charts
Chart Portfolio management tools
Integrated chart store
Automatic chart updates
Seamless "quilted" chart display
Document based route and mark management
Advanced voyage planning tools
Unlimited routes
Unlimited waypoints
Unlimited range/bearing lines
Unlimited boundary circles, lines, and areas with alarms
Unlimited undo and redo
Simulated Navigation ("dead reckoning") mode
Superior route manipulation tools
Route obstacle detection
ETA Calculator
GPS Navigation
Rate-of-Turn Course Predictor
Passing Point Predictor
Voyage Recorder
Powerful searching
Worldwide Gazetteer
Gulf of Mexico Lease Block Boundaries
Tide and Current Predictions
Text Weather Forecasts
Graphical Weather Forecasts
GRIB File Display
Data Buoy and METAR Weather Observations
NAVTEX Message Display (requires NAVTEX receiver)
AIS Environmental Messages
Split screen configurations
North-Up, Heading-Up, Course-Up and arbitrary chart orientation
Transfer routes, marks, and tracks to/from GPS and other programs
GPX file import and export
Record tracks and events
Scaled vessel display (for own-ship and AIS targets)
Integrated US Coast Pilot information and NGA Sailing Directions Enroute
USACE Port and Waterway Facilities information
Customizable Full-Screen Cruise Mode
Save customized screen configurations for quick access
Day, Dusk, and Night Display Modes
Customizable instrumentation display
Analog-style and digital instrument displays
Full Screen Planning Mode option
Supports multiple GPS receivers and other sensors
Autopilot control
Depth sounder support
Wind and weather sensor support
AIS Vessel Display
AIS Dead-Reckoning
RADAR Target Display
DSC Position Report Display
Radar overlay option
Video camera support
Administrator control over default settings and feature access
Integrated Help system
Product support via email
Telephone support line
Device Compatibility
Interfaces:
NMEA 0183 and NMEA 0183-HS
IEC 61162-1 and IEC 61162-2
NMEA 2000 ® and IEC 61162-3
Standard PC Communications (COM) Port
NMEA 0183 over TCP/IP or UDP Network Port
Video Input:
AXIS Network Video Cameras and Servers
Any standard MotionJPEG compatible network video source
Any DirectShow compatible video source
NAVTEX Interfaces:
NMEA 0183 NAVTEX Interface
Raw NAVTEX via RS-232 Serial Port
Radar Overlay:
System Requirements
PC with Microsoft Windows 10, Windows 8, Windows 7, Windows Vista and XP (32-bit or 64-bit).
500 MB or more available hard drive space (actual requirements depend on installation options)
Internet access or CD-ROM drive for program installation
Internet access or DVD-ROM drive for chart installation
XGA (1024×768) or higher resolution monitor
NMEA 0183 or NMEA 2000 compatible GPS and/or other marine electronics with an appropriate PC interface
Internet access required for some features