International PRIMAR charts now available for Rose Point ECS
Rose Point ECS now includes a convenient and cost-effective chart service for vessels using official electronic charts to navigate in international waters. Our new Rose Point PRIMAR chart service offers reliable and comprehensive global vector chart coverage in Rose Point ECS.
Save Time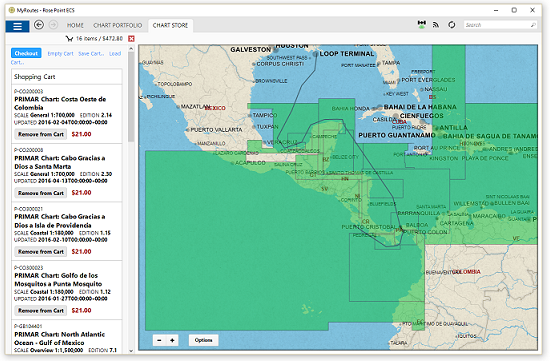 Other chart services require shipping installation discs, leading to expensive delivery costs and hassles with obtaining chart permits. Now you can conveniently purchase and install official international charts directly in Rose Point ECS.*
Reduce Costs
Rose Point's PRIMAR chart service dramatically reduces unnecessary chart purchases. Lacking specific route details, other chart vendors often overestimate the charts required for a voyage, leading to chart purchases that you will never need. Now you can select and purchase only the charts required for your route. Even if voyage reassignments are made underway, you can simply download additional charts whenever you need them.
Stay up to date
Every mariner needs the most current charts on board to ensure they can navigate their voyages safely and efficiently without incidents due to outdated chart data. Once PRIMAR charts are installed, Rose Point's built-in synchronization function reduces risks by continuing to keep charts up to date.
How to purchase
PRIMAR charts are available now in the Rose Point ECS chart store. All PRIMAR charts are official electronic charts and pricing is comparable to other official international chart solutions.
Option 1
PRIMAR charts can be purchased and downloaded instantly through the software with a visa or mastercard. Watch our video to learn how to purchase charts directly in Rose Point ECS.
Option 2
Operators can also use a purchase order to buy charts. Please contact Joe Sluka at joe@rosepoint.com or (425) 605-0985 to buy with a purchase order.
* Rose Point's PRIMAR chart service requires an internet connection to download charts.