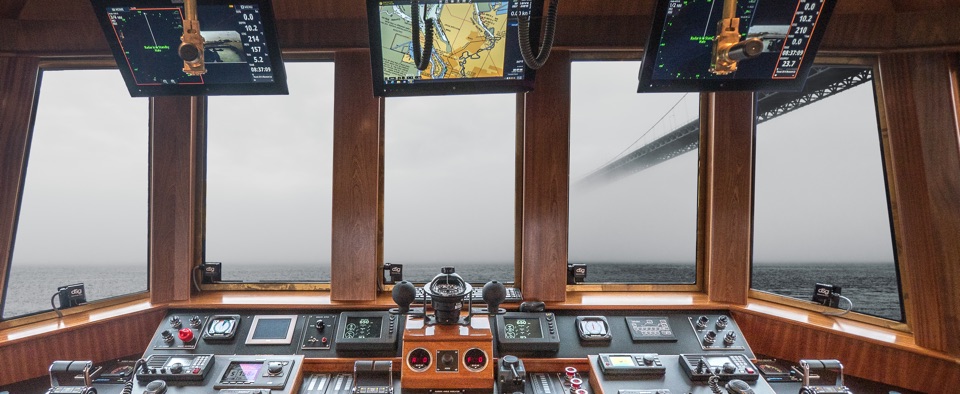 Introducing New Services for Rose Point ECS Users
Offering a new suite of services to help keep commercial vessels' publications current, connected and supported seven-days per week
REDMOND, WA – Marine fleet operators can now keep electronic navigation publications up-to-date with US Coast Guard carriage requirements via the Internet with the new, streamlined Rose Point Navigation Systems ECS services.
"The new features of Rose Point ECS services increase operational efficiency and safety," Commercial Sales Director John Cuttitte announced. "What's more, marine operators can monitor the compliance of their fleet remotely through Rose Point's exclusive web-based administrative portal. We have added weekend technical support to better assist Rose Point ECS customers seven-days-per-week."
"As fleet operating costs rise, administrators and crews increasingly manage their vessels with an eye for efficiency," Cuttitte explained. "Navigation charts on Rose Point ECS already update automatically. But with the innovative Rose Point ECS services, electronic navigation publications and data are automatically downloaded and backed up, meeting USCG carriage requirements. This process occurs easily without the need to print, transport or store paper."
With an Internet connection, fleet administrators can also view an accurate inventory of any equipped-vessel's publications and chart status through the new Rose Point ECS administration portal, creating a real-time fleet-wide view.
"The new Rose Point ECS support services also extend our world-class telephone support to now include weekends – using a dedicated call-back phone number," Steven Hodgen, technical support manager said. "Marine operators can cut costs, be more efficient and have a view of their fleet's documents like never before."

International PRIMAR® charts now available for Rose Point ECS
New cost-effective and easy-to-use chart service provides comprehensive global vector chart coverage
Redmond, WA, July 26, 2016 – Rose Point announces international PRIMAR charts are now available for use with its industry leading commercial navigation software Rose Point ECS. Mariners now have a very convenient and cost-effective chart service for vessels using official electronic charts to navigate in international waters.
"We are thrilled to provide even more easy-to-use chart options for Rose Point ECS customers," said John Cuttitte, Director of Commercial Marine Sales at Rose Point. "Our international Rose Point PRIMAR chart service offers reliable and comprehensive chart coverage and simplifies a previously frustrating chart buying process for mariners navigating outside the U.S."
Today, mariners and port captains face a daunting process to acquire official international charts for their vessels. Other chart services require shipping installation discs, leading to expensive delivery costs and hassles with obtaining chart permits. In contrast, Rose Point's easy-to-use chart service will instantly begin installing official international charts directly in Rose Point ECS with an internet connection.
Compared to alternative chart providers, the Rose Point PRIMAR chart service is the most cost-effective for Rose Point ECS users because it dramatically reduces unnecessary chart purchases. Lacking specific route details and waypoints, other chart vendors often overestimate the charts required for a voyage, leading to chart purchases that mariners will never need. Rose Point's chart service allows mariners to select and purchase only the charts they need for their entire route. Even if voyage reassignments are made underway, mariners can easily download additional charts as needed.
Every mariner needs the most current charts on board to ensure they can navigate their voyages safely and efficiently without incidents due to outdated chart data. Once Rose Point PRIMAR charts are installed, the built-in synchronization function reduces risks by continuing to keep charts up to date.
Rose Point PRIMAR charts are available now in the Rose Point ECS chart store. Pricing is comparable to other official international chart solutions and includes regular chart updates. All charts are official electronic charts and are widely recognized for their quality and ease of use.
For more information visit www.rosepoint.com/rose-point-ecs/primar.

Rose Point partners with NOAA to improve accuracy of US charts through crowdsourced bathymetry
Rose Point is pleased to announce a new partnership with NOAA to improve nautical charts through crowdsourced bathymetric data. Today, the Coast Survey charts about 3,000 square nautical miles each year to provide mariners with the most up-to-date chart data. However, the Coast Survey operates with limited resources and many areas of coastal and inland waterways go unsurveyed each year.
In collaboration with developers and cartographers at NOAA, Rose Point has added a new feature to Coastal Explorer that provides the Coast Survey access to anonymous bathymetric data to help improve nautical charts. Anonymous data from thousands of vessels will allow cartographers to identify inconsistencies in chart soundings and areas where changes to the seafloor create chart inaccuracies.
In the latest update to Coastal Explorer, you will find a new option in Rose Point Labs that allows you to provide anonymous GPS position and soundings data to NOAA. If you elect to participate, your vessel's bathymetric data will be sent to NOAA each time you sync Coastal Explorer. This option is entirely voluntary and no data will be sent without your prior approval.
Rose Point's participation in the program is part of a wider international effort to improve nautical charts through crowdsourcing. Hydrographic agencies around the world have partnered on an initiative to create an international database of crowdsourced bathymetric data that all agencies can access to improve the accuracy of their nautical charts.
Additional crowdsourced data will allow the Coast Survey to quickly identify problem areas in charts and make changes or re-survey an area to improve chart accuracy for all boaters.
We encourage you to participate in this program to help Rose Point and NOAA continue to provide you with the most up-to-date and accurate charts for safe navigation.
Learn more: Read the full blog post on the program from NOAA.
How to participate
Instructions for enabling crowdsourced bathymetry in Coastal Explorer:
Make sure you are using the latest version of Coastal Explorer (versions prior to 3.1.16137 – May 27, 2016 will not support this feature). If you are connected to the internet, use the sync button to check for program updates.
Click the Main Menu > Options
Select Rose Point Labs
Select Send positions and soundings from the option below and select OK to save your settings.
This will cause Coastal Explorer to start recording logs that contain your vessel's position and the depth from your sounder. The logs may also contain the name and size of your vessel (if you've entered them under "configure vessel"). These logs will be sent to NOAA's servers when you use the sync command. You can stop logging data at any time by disabling the crowdsourced bathymetry option.