New Services for Rose Point ECS
Introducing a suite of services to keep your vessels current, connected and supported 7-days per week
Request Information
Training Videos
Commercial operators can keep navigation publications compliant with US Coast Guard requirements and charts updated with Rose Point ECS services. What's more, you can monitor the status of your fleet remotely through Rose Point's exclusive web-based administrative portal – while getting technical phone assistance when you need it, every day of the week.
Efficiency and compliance are mission critical
As fleet-operating costs rise, administrators and crew increasingly manage their vessels with an eye for efficiency. Navigation charts on Rose Point ECS now update with minimal operator input. But, with the innovative Rose Point ECS services, you will save additional time and money. You can meet vessel carriage compliance by synchronizing current maritime publications to your navigation system. All this happens effortlessly without the need to print, transport or store paper.
Observe fleet-wide status of software, charts and publications
With an internet connection, you can access an accurate view of your vessel's data and publications status through the new Rose Point ECS portal. Therefore, the status of a vessel's navigation publications, charts and program updates can be monitored remotely by your designated administrator on any connected desktop, laptop or tablet.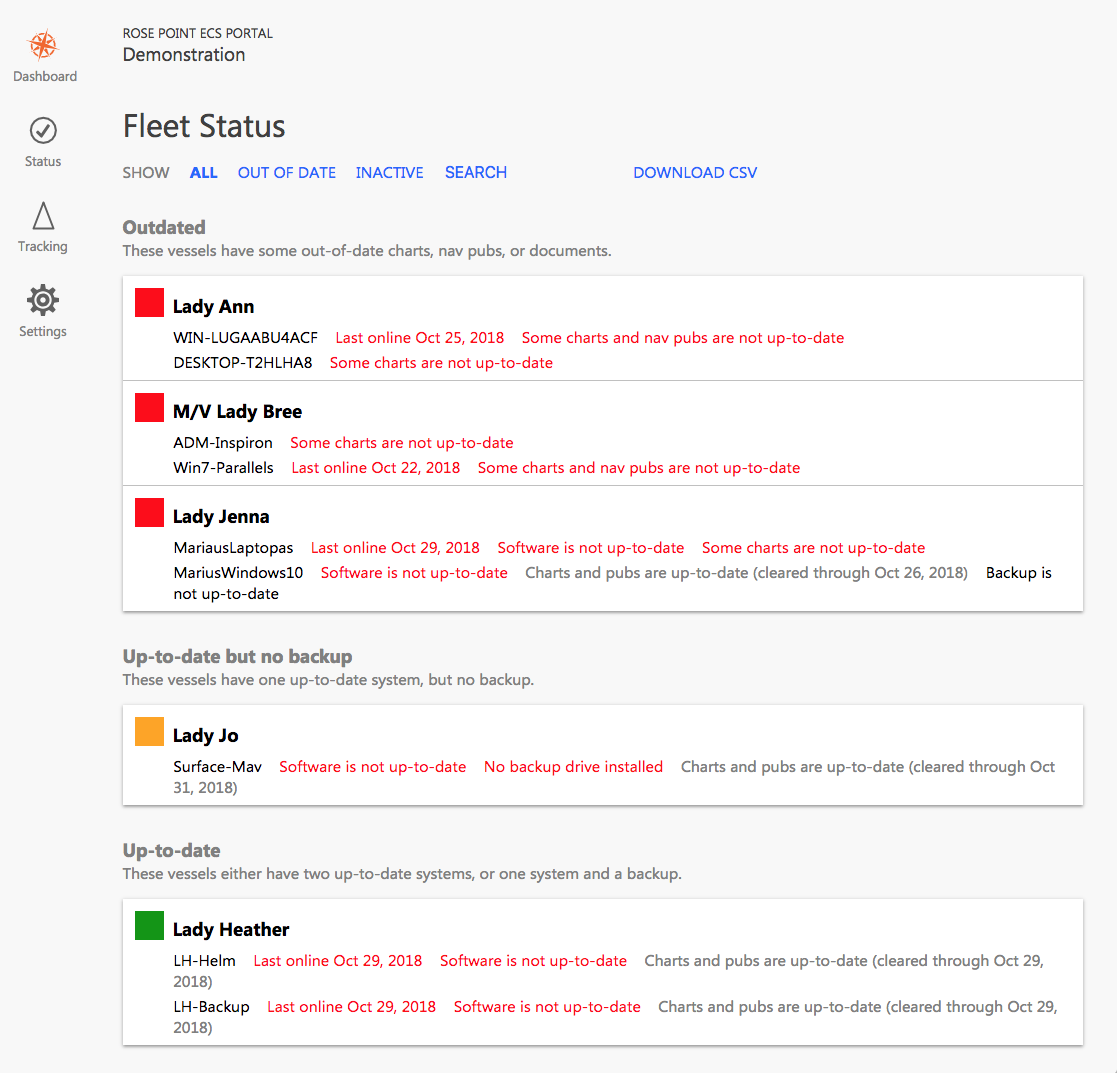 Weekend technical support
At Rose Point, we understand that the marine industry runs seven days per week. Operators and crew need fast and convenient customer support all week long. So, we are expanding our reliable Monday-Friday telephone call-back support to Saturday and Sunday. With the new Rose Point ECS enhancements, Rose Point technical telephone support is ready any day you need it.
Safety is a prime concern
Rose Point ECS is serious navigation software that provides mariners with added safety tools and more confidence on the waterways. Now with Rose Point ECS services, the capabilities of the software combine with the suite of additional services to provide navigation publications updates, an administrative portal, weekend support and future software updates. These features contribute to increased navigation safety.
Electronic navigation publications updated by Rose Point ECS services
USCG Local Notices to Mariners
USCG Light List
United States Coast Pilot
US Army Corps of Engineers Notices
USCG Navigation Rules and Regulations Handbook
NOAA Tide and Current Predictions
Now is the time to take advantage of the new Rose Point ECS services
With a new, enhanced version of Rose Point ECS on the horizon, you can acquire the new service options and update to the next-generation of Rose Point ECS at no additional cost –when it is available. Therefore, you can benefit from the enhanced service features now on your entire fleet.
Request Information
Training Videos