nemo gateway
Simply the best way to interface all your marine electronics.


Connections
The nemo gateway connects your onboard networks to provide all of your PCs, tablets, and phones access to all of your marine electronics. It can also translate information between NMEA 2000 and NMEA 0183 so you can use a combination of older and newer devices rather than upgrading everything at once.
The certified NMEA 2000® network connection ensures compatibility with your newer devices while the standard NMEA 0183 connections let you keep using your older devices.
The nemo gateway works great with Rose Point ECS and Coastal Explorer, but it also works great with any app that can use NMEA 0183 data over a TCP or UDP network connection. The Ethernet interface allows multiple PCs, tablets, phones, and other networked devices to access sensor data and even control your autopilot.

Simple Installation
Most NMEA 0183 devices have bare wire connections which can be awkward to connect, especially once the connection point has been mounted. The nemo gateway solves this problem by providing individual screw-terminal connectors for each NMEA 0183 port and power. These connectors are plugged into the nemo gateway after connecting the wires from other devices and can easily be removed later if re-wiring is needed.
Simple Configuration
On many vessels, the nemo gateway starts working right after you hook it up and does not require any configuration.
More complex systems can be configured using Rose Point ECS, Coastal Explorer, or the Nemo Gateway app for iOS and Android. Configuration options include sensor priorities, NMEA 2000 PGN output, per-port NMEA 0183 sentence output, NMEA 0183 port speeds, and more.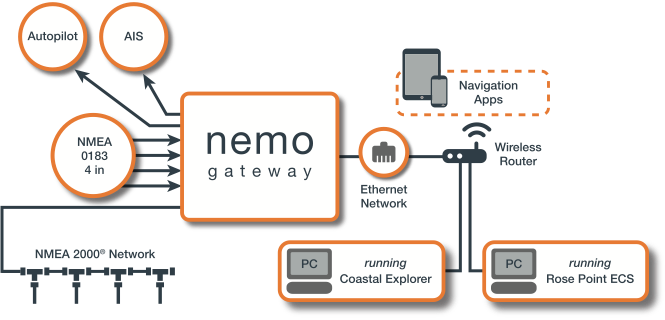 Maximum Compatibility
The NMEA 0183 input ports are optically-isolated and the talker ports use differential signals for full conformance with the latest NMEA 0183 standard ensuring maximum compatibility and signal integrity.
The power input accepts a wide voltage range allowing operation on 12V and 24V systems and includes conditioning and reverse polarity protection.
The Ethernet port connects to your existing network and configures automatically. If you don't have a network yet, you can start one with a low-cost home router. Make it WiFi to enjoy your data without wires!
Sensor Management
The nemo gateway handles prioritization of redundant position, heading, and speed sensors, maintaining a separation of the data from your primary and backup systems, and performing an automatic failover when it's needed.
Features and Specifications
Certified NMEA 2000® interface.
Four true NMEA 0183 optically-isolated listeners, each high speed (NMEA 0183-HS) capable.
Two true NMEA 0183 differential talkers, each high speed (NMEA 0183-HS) capable.
Automatic interfacing with Coastal Explorer and Rose Point ECS.
Compatible with many PC, macOS, iOS, Android, and other third-party navigation applications.
Easily configured with Coastal Explorer, Rose Point ECS or the Nemo Gateway app for iOS or Android.
Bidirectionally converts common NMEA 2000® PGNs and NMEA 0183 sentences.
Redundant sensor management with automatic failover.
Provides common network protocol (UDP and TCP) access to your NMEA data.
Simultaneous connections with multiple systems.
Additional signal standards supported: IEC 61162-1, IEC 61162-2, RS-422, RS-232.
Auto-switching RJ45 Fast Ethernet port.
Removable terminal blocks offer easy power and NMEA 0183 wiring.
Accepts wide-range 8-32 volt DC power with conditioning and protection.
Low average current draw – 0.2 amps (12v), 0.1 amps (24V).
Dimensions: 5" x 5" x 1-3/4" (including mounting flange).
Weight: 12.9oz.