Data where you want it.
Simplify your network with Nemo
Nemo Gateway

$699 MSRP

Arriving Soon!
The ultimate solution to interface all your navigation sensors while seamlessly moving data throughout your vessel. The Nemo Gateway is a breakthrough in marine electronics by combining features of NMEA 2000® and NMEA 0183 gateways, multiplexers and NMEA converters all in one stable device. Easily connect your GPS, autopilot, compass, AIS and other common sensors to your PC, tablet or device on your vessel's Network.
With the Nemo Gateway you can say goodbye to your complex web of connectors and converters. By routing and translating between NMEA 2000, NMEA 0183 and Ethernet, the Nemo Gateway moves all your data where you need it to go. Fewer components are now required on your vessel, potentially saving thousands of dollars on marine electronics. Save even more by future-proofing your purchase. When future standards and protocols are released, the Nemo Gateway will simply update its firmware.
Now you can receive your navigation data wirelessly!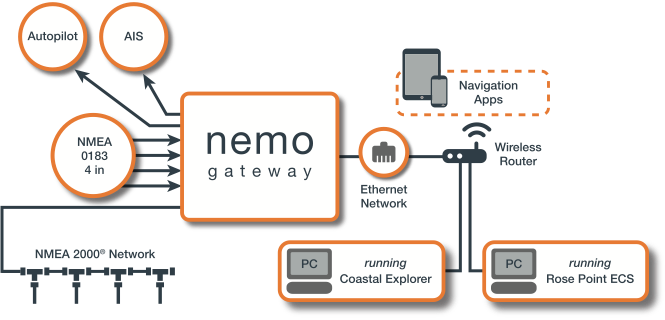 Features:
Direct interfacing with Coastal Explorer and Rose Point ECS.
Compatible with iOS, Android and third-party navigation applications.
Setup is straightforward, requiring no driver installation and is easily configurable with Coastal Explorer, Rose Point ECS or our companion iOS Nemo configuration app.
Ethernet-based architecture allowing simultaneous connection to multiple systems.
Four true NMEA 0183 optically-isolated listeners, each high speed (NMEA 0183-HS) capable.
Two true NMEA 0183 differential talkers, each high speed (NMEA 0183-HS) capable.
Bidirectionally converts common NMEA 2000® PGNs and NMEA 0183 sentences.
Provides common network protocol (UDP and TCP) access to your NMEA data.
Specifications:
NMEA 2000® certified and NMEA 0183 compatible
Additional signal standards supported: IEC 61162-1, IEC 61162-2, RS-422, RS-232.
Auto-switching RJ45 Fast Ethernet port.
Removable terminal blocks offer easy power and NMEA 0183 wiring.
Accepts wide-range 8-32 volt DC power with conditioning and protection.
Low average current draw – 0.2 amps (12v), 0.1 amps (24V).
Dimensions: 5" x 5" x 1-3/4" (including mounting flange) Weight: 12.9oz.
Sign up to receive updates on the Nemo Gateway